BLOG - THE SWEET SCIENCE
Posted By: Mike Borman at 5:38 PM 05/21/13
Baseball. It's an advertising dream. In fact, you could say it's a field of dreams.
"The one constant through all the years, Ray, has been baseball. America has rolled by like an army of steamrollers. It's been erased like a blackboard, rebuilt and erased again. But baseball has marked the time. This field, this game, is a part of our past, Ray. It reminds us of all that once was good, and that could be again. Oh people will come, Ray. People will most definitely come."

Terence Mann, Field of Dreams
OK, just to be completely transparent, I'm a baseball nut. I love the game of baseball and always have, although my dreams of being the left fielder for the St. Louis Cardinals were dashed at the tender age of 8. That's about the time I realized that it takes more than the memorization of my favorite player's stats from the back of a bubble gum card to make it in the "Bigs".
Baseball is unique in sports. It's slow. Let's face it, there's far more inactivity than action. But this lack of constant action may be the very reason it's revered all around the world and for many generations. The time between pitches provides ample opportunity for the anticipation to build, for the commentators to set the stage and for the viewer to be sucked into the drama of the moment.
And because of all these factors, we get to focus on the players. Not just to see what they're going to do, but on an emotional level. Love them or hate them, we start to feel what they feel. The lack of equipment covering their faces helps to personalize the game and give us some insight as to their personality and share in the "thrill of victory and the agony of defeat". These are the ingredients for a great movie, book and, to the topic at hand, advertisement.
By incorporating heroes (and characters) from the baseball diamond, advertisers have long understood this power and increased their sales. But it's not just the players themselves that are being leveraged by advertisers. The ballpark can provide a number of opportunities to push a product. The naming rights of a stadium allow the buyer to get a marketing property to promote products and services, promote customer retention and increase market share.
Additionally, the advertising inside the stadium can provide some of the same opportunities at a fraction of the price. Advertising in a stadium setting has evolved from the boring icon or logo of a sponsor into an experiential event. With technology advancing by leaps and bounds, the interactive scoreboard and LED streaming video is commonplace at the ballgame. If you've gone to a sporting event recently, you are well aware that the branding and interaction starts the moment you enter the stadium. Hi-tech, colorful and bright messages are moving all around you.
Success here is all about repeat branding and, whether it comes in the form of TV commercials, print advertising or the in-your-face barrage of sponsor branding at your favorite team's stadium, baseball has been a terrific advertising forum.
In an effort to keep this article light, below is a list of links to some of my favorite advertisements that incorporate baseball players.
Dick's Sporting Goods Jimmy Rollins
This is SportsCenter David Ortiz
This is SportsCenter Brian Wilson
Feel free to share your favorite sports ads with us, too!
---
---
Posted By: Liz Sartorius at 9:52 AM 05/15/13
"Team Work Makes the Dream Work." It may be a corny line, but it is very true when working at a marketing agency. Each and every day you are faced with working with different clients as well as the different personalities of your fellow co-workers. In order to continue to hit deadlines and provide the best work to your clients, it is important to work as a team and figure out how best to utilize each of your teammates.
When interviewing at marketing agencies, you often heard people saying they liked their jobs because you get to work with all different kinds of people. While often working with several people is great, it sometimes can be difficult to learn how to handle the variety of personalities.
Since joining the team here at Boxing Clever, I have developed a few tactics that have proven to be successful when trying to manage and handle the diverse personalities on my team.
1. Adjust to their working habits.
It is important to remember that not everyone works and learns the same way as you. If one of your co-workers needs constant reminders as to when things are due, or needs a weekly status sheet listing out their exact duties for that week, it is best to take the extra 10 minutes and complete the list for them. This not only helps maximize your co-workers' time, but helps your team as a whole, as this will keep everyone on task and allow the team to continue to move forward to hit the set deadlines promised to the clients.
2. Always approach every situation with a positive attitude.
I believe this is the best thing any account person can do in order to help their team work together successfully. As many of those who work in the advertising business know, feedback and direction for projects often change; thus, it is important to remember that no matter the deadline or the extent of the task, everything can be completed and will work out. If you approach every situation with a positive attitude, it will rub off on your team and make them more apt to continue to help you with the requests as well as new projects that may arise.
3. Know you're all on the same team working toward one common goal.
Working at an agency with several personalities and opinions, it is easy to forget that everyone is working together to achieve one major goal. Though strong opinions may arise, you have to remember that those opinions often come from the fact that people are passionate about their work. That passion is what helps continue to drive the team and helps to accomplish the common goal or objective. It is important to remember that, while everyone is different, everyone has a special trait or quality that brings value to the team.
Overall, though working with many personalities may sometimes be difficult or may create a little extra work for you, it is those personalities that help the success of the overall team. As corny as it may sound, always remember: "Team work makes the dream work."
Feel free to share any stories or advice you have for working with your teams!
---
---
Posted By: Misty Manley at 11:36 AM 05/08/13
Illustration has reached new heights of popularity in the design world in the last few years, with so many emerging artists coming up with interesting new twists on old styles and vector illustration becoming bigger than ever. (We here at Boxing Clever try to stay on our toes practicing our illustration skills on some fun FakeAnything projects in our spare time.) It's true that any Design I student can make a vector illustration; what gets tricky is taking those simple illustrations and making them into something awesome—and visually delicious.
I remember getting much advice on my portfolio in school to try and make my illustrations "less flat." I wasn't quite sure what that even meant, and now that I do, I'm trying my hardest to continue to do better. So, in case you're a dumb-dumb like me, let me break it down for you like a fraction. There are some relatively easy ways to instantly up the awesome factor of your otherwise boring illustrations.
1) Adopt an interesting style.
Realistic is boring. Owning your illustration style by throwing your interpretation on it, whether it be through caricature, extreme agonizing detail (I'm looking at you, Brian Yap) or creating something that's beautifully duh-why-didn't-I-think-of-that simplistic. Find out what style you seem to gravitate toward and hone in on it.
DKNG
Nicola Meiring
2) Texture & depth.
This is basically what my professors were referring to when they were talking about flat. Booooring. There isn't a quick, easy fix, but starting to think about what your illustration would look like with added gradients, after scanning in found paper textures, or maybe brushing in a little grunge with a Photoshop brush. All great starts. It's also a good idea to think about what it will look like in its off-screen afterlife—screen-printing and letterpress are both magical.
Marco Goran Romano
3) Unexpected color.
BUT MISTY! Pugs aren't blue. Shut up, it's awesome and you know it.
Javier Garcia
4) Type as illustration.
If you're blanking on what imagery you could use for a particular illustration, what if your type tells the story?
Jessica Hische
5) The devil is in the details.
Detail is pretty much never, ever a bad thing. (Ok, maybe if you're doing an icon or logo…BUT…in every other circumstance, it's great.) There's nothing I love more than tiny little details that I overlook the first, second and even third times. DKNG is a Boxing Clever favorite who get notoriously intense with their details. It gives your brain so much to do!
DKNG
DKNG
Try these tips, and if you still want further inspiration (and you should) check out Dribbble and Behance to discover a bevy of amazing eye candy to get your creative juices flowing!
---
---
Posted By: Mary Dohle at 12:11 PM 05/01/13
In a world where brands are vying for consumers' attention through tweets, Facebook posts, banner ads, mobile apps, etc., the on-premise as a worthwhile advertising outlet becomes overlooked. Dismissing the on-premise as a viable medium is a disservice to a brand. The on-premise is packed with potential and has the ability to reach and engage with consumers in manner unmatched by other advertising platforms.
Although it can be a tricky terrain to navigate; below are fundamentals to keep in mind when crafting on-premise promotions.
1. Excite, Engage, Entertain
Sure, giveaways and shot specials are great (who doesn't enjoy a free t-shirt accompanied with a cheap shot?), but freebies only go so far, and let's be honest, all coasters and posters look identical after a while (especially a few drinks in). Just like billboards on the side of a highway or ads in a magazine, on-premise signage grows stale and becomes part of the clutter.
Unlike the majority of promotions taking place in the digital sphere, the on-premise allows brands to physically interact with consumers. Engage your target audience with out-of-the box promotions that allow them to connect with the brand in a way that cannot be achieved with a Facebook post. Consumers encounter hundreds of messages a day, so instead of keeping them on the receiving end of things, pull them in and allow them to play an essential role in the promotion. Buzz worthy promotions stick with consumers and generate hype for your brand.
2. Know Your Audience
Research, research, research! The more you understand your audience, the better. Get specific and down to the nitty-gritty. You should know your target audience like you know your best friend. Aside from basic demographic information, you should understand your target's personality and be able to rattle off their go-to happy hour drink and favorite Friday night get-together spot. These insights will allow you to design strong on-premise promotions that appeal specifically to your target market, ultimately leading to a greater likelihood of success.
3. Be There
Go where your consumers are. Why attempt to execute an on-premise program at a swanky nightclub when your target audience spends their nights at hole-in-the wall bars? Don't waste time, energy and money trying to entice consumers to venture somewhere they normally wouldn't go. Take advantage of the atmosphere that has already been established and capitalize in the accounts where consumers currently spend their time and money.
4. Make It Executable
Everyone loves relishing in that sweet moment when THE big idea strikes. While basking in the triumph following what you think to be the best idea EVER, feasibility is often overlooked. A non-executable program could be your biggest downfall. Remember the acronym KISS: Keep It Simple Stupid. Bartenders sure as heck aren't going to execute any promotions that are overly complicated when they have a bar full of thirsty patrons demanding drink specials. Likewise, consumers are not going to partake in over-the-top promotions that require a great deal of effort and brainpower. Bar-goers are at accounts to kick back, relax and enjoy a few rounds with friends, so don't build promotions that interfere too greatly with their established regimens.
Don't shy away from on-premise promotions. Advertising platforms such as print, digital and TV should certainly not be discounted, but there's truly a unique and often untapped opportunity within the on-premise. When fully thought out and executed correctly, on-premise activations can score big with consumers and brands.
If you have a favorite on-premise promotion, please share! I'd love to hear.
---
---
Posted By: Rick Hecke at 9:24 AM 04/24/13
How do you get a musician off your porch? Pay him for the pizza.
That might sound like I'm mocking musicians, but I'm really poking fun at myself. You see, in another life, I was one of them. So stop whatcha doin', cuz I'm about to ruin, the notion of music marketing that you're used to.
The music game has come along way since the Jurassic Era when I was on stage stinking up the joint. There are so many new, cool ways to promote yourself in the digital space. Yes, I said "yourself." Are you Suge? Are you Jay-Z? I didn't think so. So if you're looking to make it big time and fly your own jet to gigs, Dickenson-style, then you're going to have to rely upon your own devices to get the word out there before any record label will pimp you.
So sit back as I shall, proceed, and continue, to…
Start with a website. Put your music front and center and don't junk it up with a lot of bells and whistles (or Flash.) No self-respecting music fan is going to wait more than five seconds for your page to load before moving on to that other band with the cute singer's site. Keep that thing as clean as a Henry Rollins' blood test. Include a blog – as long as you're committed to using it and keeping it updated with good content. It's your way to engage, inform and continue to reach out to new listeners. Do it yourself or sites like Bandcamp.com have everything you need to get started.
Facebook is great because it allows you to announce where you're going to be, talk to others about what you're doing and even see who's planning on showing up to see you. Post photos and videos whenever you can to see the most engagement. Better yet, it's free!
Twitter? Absolutely, if you are prepared to post a couple times every day, with interesting and fresh content. Remember, people will follow you based on what your bio says (and the content of your tweets), so craft it well and be sure to include a link to your website. Don't leave it up to your drummer, know what I'm sayin'?
Keep your digital activity and conversation with fans ongoing all week, even if you're not playing. Fans are fickle. Drop the ball on this and you may find yourself playing to a much smaller crowd than you'd like:
YouTube - obviously. Live performances, clips from your first tour to the town 45 minutes away, interviews, etc. Mix it up, have fun and keep 'em wanting more.
Justin Timberlake tells me that MySpace is relevant again. I'll be diplomatic and say it's up to you to make that call.
Did you know Spotify will host unsigned bands? Yep, you just have to go through a third-party distributor and Spotify is even nice enough to recommend a few. Distributors take their cut, mind you, but that's the biz and it's time to get used to it. You're still makin' benjis, so don't trip, Yoseph.
I've already mentioned Bandcamp, but also look into OurStage, last.fm (both free!), ReverbNation and Zimbalam. You'll be amazed at the digital promotion and distribution tools available. Find everything; brand-free players, mobile apps, widgets, gig finders, press kit publishing. Wow. Check these out, look for others and see which best suits your needs.
You could also find a neat record label that puts out classic 7-inch records that feature up-and-coming artists. A nice, friendly record label made up of really creative types that are passionate about sharing awesome music from all kinds of genres by artists all over the country. "Where do I find such an awesome label?," you ask? You'll have to stay tuned to boxing-clever.com to find that out. Won't be long, I promise.
In the meantime, post your comments and questions below so I can respond with a snarky, snobby music reference.
---
---
Posted By: Josh Elmore at 12:49 PM 04/17/13
After just one month of actually utilizing the combined power of HTML5 and CSS3 animations, I can honestly say that web development has never been easier. Just these tools together can do so much more with a minimal amount of complex and redundant coding. Like both of these tools, I'm fairly new around here, so let's all get acquainted.
Using CSS3 Animations
CSS3 animations make it possible to animate transitions from one CSS style configuration to another. With CSS3, we can create animations, which can replace animated images, Flash animations, and JavaScripts in many web pages. Animations consist of two components, a style describing the CSS animation and a set of keyframes that indicate the start and end states of the animation's style, as well as possible intermediate waypoints.
There are three key advantages to CSS animations over traditional script-driven animation techniques:
They're easy to use for simple animations; you can create them without even having to know JavaScript.
The animations run well, even under moderate system load. Simple animations can often perform poorly in JavaScript (unless they're well made). The rendering engine can use frame-skipping and other techniques to keep the performance as smooth as possible.
Letting the browser control the animation sequence lets the browser optimize performance and efficiency by, for example, reducing the update frequency of animations running in tabs that aren't currently visible.
Here's a sweet example of CSS3. And if you don't like that example, well, then I guess we can't be friends.
HTML5 and You
HTML5 has definitely become a trend alongside its lil' brother CSS3 because of their functions and utilities, which make them the next best thing in web design. Better even than Flash, maybe, in some situations. Being the next best thing isn't the reason you should use it, but the fact that it introduces and enhances a wide range of features, including form controls, APIs, multimedia, structure, and semantics, just might. The most important thing for you to know is that you can't learn it just by reading; you have to work with it, step by step, and by the time HTML5 and CSS3 properties will be supported on every browser, you'll be a rockstar coder. With all this talk about HTML5 not being complete until 2022, many people disregard it entirely – which is a big mistake. In fact, there are a handful of HTML5 features that we can use in all our projects right now! Simpler, cleaner code is always a good thing.
If these tools had a face, this would be it:
I hope this has inspired you to go out and learn these things on your own. Thanks for stopping by! If you have questions, leave 'em below and I'll do my best to answer them!
---
---
Posted By: Rachel Reagan at 10:10 AM 04/10/13
Working remotely, or in fancier terms, telecommuting, has been a pretty hot topic as of late. A recent survey by Stanford University estimates that about 10% of workers now telecommute. Unless you work at Yahoo! and have Marissa Mayer for a boss, your manager might be open to the possibility of you working from home. If you get the chance to do so, how can you make it a successful and mutually beneficial arrangement between your company and yourself? After working remotely for the last 9 months, I've put together a few things that I've learned along the way!
1. Create a Structured Routine
Even though I'm away from the office, I still need to keep the same business hours as my agency and clients. Treating my home office like my work office means that I still get up early and start the day the same as my co-workers. Being on the same schedule as my other Boxing Cleverians allows for easier communication and scheduling of meetings. This also allows us to reach each other in case of any last-minute, emergency client requests.
On the other hand, if your work allows you to choose your own business hours, by all means do so. The key is finding a routine that works for both you and your company. Just because you're working from home, doesn't mean you should do housework when you should be working on a project (because you wouldn't fold your laundry at the office!). Treat your home office and office hours the same as you would your in-office cubicle!
2. Keep the Communication Lines Open
Working remotely allows you the peace and quiet to do your own thing, and for some people, this is a definite perk. If you're easily distracted by the goings-on of everyday office life, a home office can be a welcome retreat, and you may find yourself tackling your to-do list more quickly. However, being separated from the team means you might miss out on spur-of-the-moment project meetings and updates, and because of this, it's essential that you're always accessible to your team members, and vice versa!
Be sure everyone knows how to reach you, and if possible, look into instant message programs for quick conversations. When I'm working on a project with last-minute updates, iChat has been invaluable when it comes to checking on progress and answering questions quickly. Finally, if you thought status meetings were important when you worked in the office, you'll come to realize they're even more necessary if you or several members of your team work from home. Setting weekly (and even bi-weekly or daily if specific projects call for it) status meetings with the entire team is a great way to update everyone on all projects and learn about/introduce new tasks.
3. Stay Organized and Clutter-Free
When you're away from office life, organization is important, and details need to be managed even more so. When you're telecommuting, often the only person managing your project progress is yourself. Because of this, it's smart to create a workspace that is clean and free of distractions. While organization on your laptop and mobile device is important, don't neglect your physical place of work. Set up white boards and bulletin boards, to-do lists, and a filing system to help you stay on-track and focused. I've found that I'm more likely to want to come to "work" if my space has personal touches (another perk of having a home office!) and everything is filed and in its place. While it might seem obvious, organization can be hard for some people who don't have in-office co-workers to model off of.
4. Start Walking
Or skipping, or jogging! When working from home, I've found myself not moving around as much as I did in-office. Because you no longer have to walk from your office to car, from one co-worker's desk to another, or up or down the stairs for lunch, etc., you may notice you're more sedentary. Break up the sitting by taking a brisk 10-minute walk every couple of hours or working out during lunch. Not only will you burn a couple more calories, but you'll also give your brain a break from the screens and come back more focused.
5. Ask About Physical Face Time
It's not always easy communicating with your co-workers and clients solely via phone, email, or Skype. While these are certainly convenient, sometimes nothing beats a good old-fashioned meeting! Speak with your manager about investing in face time, so that you can spend time and bond with your co-workers, as well as meet with your clients and catch up in person on current and upcoming projects. Not only will this help you to still feel like a part of the team, but it will also show your clients that you're willing to invest in their relationship and partnership!
Studies show that telecommuters are likely to increase to 43% of the workforce by the end of 2016. If you end up being part of that remote workforce, hopefully these tips will come in handy. Or, if you currently work from home and have additional ideas to share, we'd love to hear from you, so leave us a note below!
---
---
Posted By: Sarah Rockwell at 9:51 PM 04/02/13
As social media sites continue to grow in popularity and exposure, and new networks continue to emerge, a growing number of users are grumbling and complaining about how the use of these sites is negatively impacting real world activities. You know, like living. And being…social. (Cue Alanis Morrisette.)
While there are ample negative examples of our culture's immersion in non-human-to-human communication, we'd like to take a minute to show that there are plenty of positive aspects, too. As trends in hyper-localness grow, so does the value of social sites that can unite perfect strangers in the name of doing good. Case in point – a local toy store that was recently saved thanks to a community coming together through crowdsourcing, or more accurately, crowdfunding.
So grab a carpet square and a snuggle buddy, because it's story time.
Comfy? Good. Let's do this.
Once upon a time, there was a quaint toy store in a faraway town (well, okay, Edwardsville…and also Clayton, but that ruins the cadence of the tale, so let's just move on, okay?).
This store, Once Upon a Toy, was owned by a fair maiden and her dashing bridegroom. Together, they carefully and lovingly created a destination for toys – the good ones, none of those heathen lead-filled kind – birthday parties, fundraisers, game nights, play dates and all the fun hearts of any age could possibly desire.
But one day, the evil economy struck fear in the hearts of the bank that held their business loan, and sadly, the bank recalled that loan 5 years too soon.
Hark! What were the two young, caring entrepreneurs to do? Alas, they decided, it must be time to bid farewell to this humble toy paradise and move yonder to new quests.
When word spread across the fair land and across the Book of Faces, a kingdom of toy lovers and supporters of this fine duo cried out in despair. What could be done to save this magical haven for happiness and smiles?
With barely more than a fortnight to complete the challenging quest to satisfy the bank's crushing need for gold, a community banded together to form a mob the likes had never before been seen. A mob of generosity, goodness and joyful delight.
Toy connoisseurs who frequented the shops set up a fundraising account on Crowdtilt, which is a website on those magical interwebs that allows friends and strangers alike to share funds to support a common purpose. Fellow merchants from the kingdom pitched in, too, including your very own Boxing Clever.
Efforts included sharing short stories and links on the Book of Faces, offering donations in return for spreading the word with that adorable little blue bird who's all a-Twitter, and even reaching out to town criers on the fancy picture box to enlist as much help as possible.
As several days turned into nights and back into days and then back into nights and then days…well, you get the picture…with little more than hours to spare, the kingdom was aglow with joy. The toy store had been saved!
The moral of this story, dear children, is to use wisely the magical tools set forth before you. When used for good, quite anything is possible.
And they all lived happily ever after.
THE END.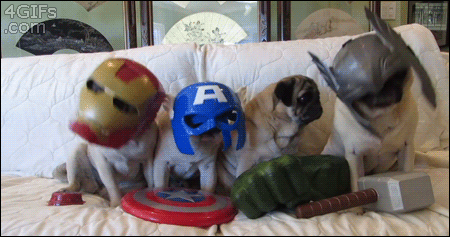 P.S. If you're looking for unique and quality toys, you really should check out Happy Up Inc., the parent company of Once Upon a Toy in Edwardsville and LagoonaMagoo Toys in Clayton. Top notch toys, top notch people, top notch awesomeness.
Here's one more gif for good measure:
---
---
Posted By: Jake Houvenagle at 6:07 PM 03/26/13
Plan. Value. Usability…sounds like a Shop 'n Save coupon, but nonetheless could prove useful in web design should you choose to trust me (most people do not, but I attribute that to my facial hair and desire for a windowless van).
Features.
Yes, I know that wasn't in the first sentence, but I was making a point. What are you building the site for? Better yet, what is the value to an internet-trolling human? Think this through, treat this like a thesis…what is the single idea you are building on? Now, this could be when I talk about business objectives, but I like colors more than words and numbers, so let us move on. Hey, who's gonna use this newfangled world wide web phenomenon you plan on building? Don't forget about your core, idealist user when thinking on the appropriateness of integrating the newest, fanciest technologies, social media, external data feeds, video, photography, illustration, copy and user generated content.
Experience.
A good user experience starts with a good product map, user flow, site map, wireframes…whatever you want to call them. All of the fancy words you hear in the meeting you don't want to be in…those are important to understanding the sequence of how a Facebook addict progresses through the environment you are creating. And when they navigate the world your super smart gourd has concocted, make sure there is an established, consistent (pay attention to that there word…here, I'll say it again: consistent) brand and product message. Another important word to note is testing. People from all walks of banner ad clicking fools will end up on your site and there will be every browser from every shitty computer monitor from every shitty internet connection speed wanting instant gratification. Test on everything you can get your mitts on.
Visual Design.
If you want it done right, do it yourself (hot damn that's egotistical, but true). Not many will share the same passion for your fancy idea and they sure as hell don't know what's in your head unless you make it abundantly clear (this proves difficult for most designers, not excluding myself). Make production-ready screens, have a plan as to how things move about in responsive design, organize your files, organize your files and organize your files. Define and stick to a typography system, visual hierarchy and aesthetic of the product. Bonus knowledge to ponder…how do the visual cues help or hurt an internet human's understanding of the experience? Sounds like a fancy question, right? Let me dumb it down for you: does a button look clickable? If I think this should do that…does it? If not, why?
Conclusion.
The ol' cliché…know your rules before you break them. And if you're going to break them…have a reason.
We are not immune to my ramblings…and as proof, I offer you a sneak peek into Boxing Clever's new site in the works. You like it? Pretend you like it.
---
---
Posted By: Chris Barbee at 4:58 PM 03/19/13
Feeling nostalgic? Well, grab your companion, straighten your bowtie and make sure your sonic screwdriver is charged because I want to share with you some of my favorite examples of vintage advertising. So, allons-y!
First stop, 1898.
Amazing lettering. Careful composition. And there is something brilliant about those thin lines on the ornaments. This is why it makes me happy that the trend of careful lettering is coming back in more recent ads like this:
Next, the 1930s.
My favorite from a set of posters produced by the W.P.A. to promote the Brookfield Zoo shows the power of a limited color palate. Back then, the color limitations may have hade more to do with ease of printing and cost, but now it's all about the punch:
Next up, 1956.
I'm crazy about this Swiss Air poster. Maybe I'm just a sucker for blending modes, I don't know. I seem to be seeing the same kind of color over image elements used more and more lately. I'm a sucker for those, too.
It seems like there is more and more great new stuff that shares some common traits with some great old stuff. So if you're ever stuck for ideas, I'd suggest hopping into your Tardis (you have a Tardis, right?) and look back in time for inspiration. Who knows? You might make history.
If you're looking for more visual inspiration, I hear the folks around these parts like pinning things...
---
---
OLDER POSTS >>